We actively encourage the involvement of parents in Pre-School life, happily sharing with you the events of your child's day upon collection.
We recognise the importance of offering you as much information as possible regarding your child's development and will gladly answer any of your questions or queries. Our provision endeavours to meet the needs of you and your child(ren); if there is anything we can help you with please do not hesitate to ask.
We pride ourselves on our communication skills and have established sound methods in order to keep you fully informed about your child's time with us.  However, if at any time you feel the need to discuss your child in more detail or have any concerns, please do not hesitate to talk to us informally or arrange a meeting.
As good practice, we keep records of each child's development so that we can ensure that they make good progress under the EYFS; the learning journeys also enable us to plan for children's individual needs. During the settling in session we will arrange a short meeting between you and your child's key person so that we can discuss any particular requirements and set up a Learning Journey for your child.  Our Learning Journey's are completed online using Tapestry.  Parents will be provided with access to  their children's online journal, which will enable you to view and comment on the observations and photo's which have been uploaded.
Progress Summaries are issued to all parents in the Autumn and Summer term, based upon the information gathered in the Learning Journey.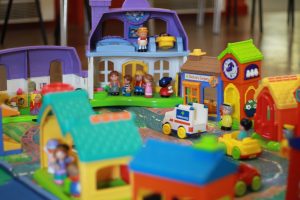 Occasionally the key person will observe situations where a child's development may not be where it should be.  If concerns arise these will be discussed in detail with you.  Should further support be required then the key person will liaise with the Special Educational Needs Co-Coordinator (SENco).  Together, they will work closely with the parents in order to identify specific needs and if necessary contact outside agencies for further support and guidance.